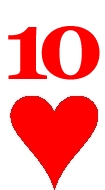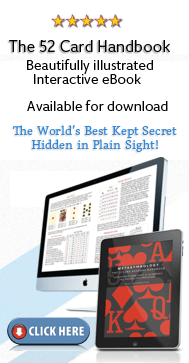 Hearts - Emotions - Relationships - Love
10 of Hearts - Love of Self
Karma for the 10 of Hearts ~ SELF - INSISTENCE
Identified as "success in love", the people with this top Heart Card are at their best in large social organizations, on the stage and in politics.
They have a strong emotional nature, they are sometimes overwhelmed in personal or intimate relationships. Ten of Heart needs to guard against isolating themselves from the people contact so very important to them.
If a person with this card operates on a purely negative level, using their charismatic charms for the sole purpose of material gains, then we see such a drive for power and recognition that all personal love is lost in the conflict and the end result is a barrier of coldness and a dry, lonely life.
All 10 of Heart emanate and respond to love and kindness but they are also able to detach themselves and appear apathetic when a love is lost. As they tend to safe box their strong feelings, the Ten of Heart people often miss out on the thrill and joys of wild and crazy passionate love; but then again, they're also able to escape the emotional train wreck that often follows in its wake.

TEN OF HEART BIRTHDAYS: July 31 (Leo), August 29 (Virgo), September 27 (Libra), October 25 (Scorpio), November 23 (Sagittarius), December 21 (Sagittarius/Capricorn)
FAMOUS TEN OF HEARTS: J.K. Rowling, Dean Cain, Wesley Snipes, Ted Cassidy, Milton Friedman, Geraldine Chaplin, Michael Jackson, John McCain, Ingrid Bergman, Avril Lavigne, Gwyneth Paltrow, Minnie Pearl, Pablo Picasso, Miley Cyrus, Harpo Marx, Keifer Sutherland, Samuel L. Jackson, Jane Fonda
"The world's best kept secret, hidden in plain sight!" - copyright Metasymbology Co. 1997-2014