Seven of Spade is the SOUL CARD
for the Eight of Heart
---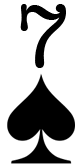 Higher Self
Introspection
Overcoming
---
When the 8 of Heart learn to temper their strong emotions by becoming more aware and mindful of others, theybecome incredibly successful.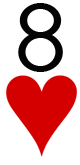 Charismatic
Empowered
Domineering
---
All of the 8's feel empowered and emboldened by the meaning of their suit. The HEART suit symbolizes our social and emotional needs. Thus the 8 of Heart seek power and control in matters of the heart!
WHAT IS YOUR SOUL CARD?
It is true, all 8s feel the need to control and dominate, and when the Eight of Heart are engaged in love and busy with their relationships they are truly at their best. But unless the 8 of Heart manage to find their true love, they have a bad habit of racing through many loves, leaving a trail of broken hearts in their wake.
The 8 of Heart often find themselves having to work really hard for their money but they do have the protection of Saturn and there will always be enough security to get by. Then there are those 8 of Heart who apply themselves to big business and end up being wildly successful in large organizations.
To make the best of their life pattern, all 8 of Heart need to be in the drivers seat - while at the same time - being careful not to bully others with their intense emotional power.

---
8 OF HEART BIRTHDAYS:
August 31 (Virgo) September 29 (Libra) October 27 (Scorpio) November 25 (Sagittarius) December 23 (Capricorn)
---
FAMOUS 8 OF HEARTS:
Richard Gere, Itzhak Perlman, Eldridge Cleaver, Madeline Kahn, Jerry Lee Lewis, Anita Ekberg, Kelly Osbourne, John Cleese, Emily Post, Theodore Roosevelt, Christina Applegate, ohn F. Kennedy Jr., Barbara and Jenna Bush