Five of Club is the SOUL CARD for the Four of Club
---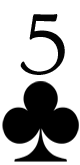 Adapting to
Change

---
If they want to experience more joy in their lives, the 4 of Club must learn how to better adapt to change, and become more flexible towards others.

Concentrated
Mental Pursuits
---
All FOUR's are inflexible and headstrong. The CLUB suit symbolizes communication and thoughts. Thus the 4 of Club tend to be opinionated, and unyielding towards others.
SOUL CARD?
The Four of Club is known as the debaters card; probably because of their fixed opinions and unique ability to shut off emotionally. The people born on a Four of Club day have strong, productive minds, and a good education is key, or they run the risk of talking much, but saying little.
KARMIC CHALLENGES for the Four of Club: Dispassion and Passive Aggression
Four of Clubs are always afraid of not having enough money, even when they do, and they are known to drive a hard bargain. Work is healing for them, especially when it involves large, male dominated organizations, and their health is never much of a problem.
The 4 of Club like to look good. They have unique and unusual emotional interests, often attracting dubious or manipulative people into their lives. They have a natural ease about them, especially when involved with large groups of people, and they make for great travelling companions!

---
FOUR OF CLUB BIRTHDAYS:
April 30 (Taurus) May 28 (Gemini) June 26 (Cancer) July 24 (Leo) August 22 (Leo-Virgo) September 20 (Virgo) October 18 (Libra) November 16 (Scorpio) December 14 (Sagittarius)
FAMOUS FOUR OF CLUBS:
Kirsten Dunst, Michael Waltrip, Ian Fleming, Rudolph Giuliani, Pearl S. Buck, Greg LeMond, Jennifer Lopez, Amelia Earhart, Ray Bradbury, Dorothy Parker