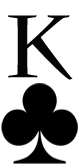 Clubs - Mind - Communication - Intelligence
King of Clubs Meaning: Maturity in Knowledge
Karma for the King of Clubs - Frivolity
---
Wonderfully creative and very fast learners, even the careless and negative Kings of Club have keen intelligence and insight.
King of Clubs are also known as emotional idealists and need to be careful they don't scatter their forces due to emotional disturbances and problems within the family.
Both sexes have strong family ties and they tend to make excellent parents. They are often willing to make sacrifices to provide for their children.
The King of Club rarely lacks money and they usually make it by being in business for themselves. These people make excellent lawyers - especially for corporations - and trustees for estates.

---
KING OF CLUB BIRTHDAYS:
January 27 (Aquarius), February 25 (Pisces), March 23 (Aries), April 21 (Aries or Taurus), May 19 (Taurus), June 17 (Gemini), July 15 (Cancer), August 13 (Leo), September 11 (Virgo), October 9 (Libra), November 7 (Scorpio), December 5 (Sagittarius)
---
FAMOUS KING OF CLUBS:
Wolfgang Amadeus Mozart, Lewis Carroll, George Harrison, Adelle Davis, Chaka Khan, Joan Crawford, Catherine the Great, Iggy Pop, Malcolm X, Venus Williams, Forest Whitaker, Fidel Castro, Moby, Sharon Osbourne, Joni Mitchell, Frankie Muniz, Walt Disney