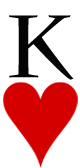 Hearts - Emotions - Relationships - Love
King of Hearts Meaning: Paternal Love
Karma for the King of Hearts - Easy-going Inactivity
---
By nature, these people are the most desirable people on earth and the most worthy of love. They will respond to any true call for help from any quarter - and you can forget to thank them if you choose; it will make no difference to them.
The front they present to the world is kindly, friendly and magnetic. They give an impression not so much of power but of peace, protection and "safe harbor". Within themselves, however, they know they have the full power of love, a power invincible!
Sometimes, we find the Kings of Heart are quarrelsome and overbearing. They are met with constant disappointment in others, and are frequently deceived or betrayed.
When we meet a King of Hearts on their own terms and tune into their love and kindness, they never bring us anything but joy. They are the heart and center of family life, and harmonizer of friends.

---
KING OF HEART BIRTHDAYS:
June 30 (Cancer), July 28 (Leo), August 26 (Virgo), September 24 (Libra), October 22 (Libra), November 20 (Scorpio), December 18 (Sagittarius)
---
FAMOUS KING OF HEARTS:
Michael Phelps, Ralf Schumacher, Susan Hayward, Lena Horne, Jackie Onassis, Beatrix Potter, Sally Struthers, Mother Teresa, Nia Vardalos, Linda McCartney, Jim Henson, Catherine Deneuve, Joe Biden, Robert F. Kennedy, Katie Holmes, Brad Pitt