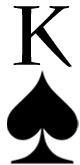 Spades - Wisdom - Labor - Acceptance
King of Spades Meaning: The Highest Initiate
Karma for the King of Spade - Self Distrust
---
"If you were born on the first day of the year, the top card in the deck, the King of Spades is your personal symbol. It represents the ultimate in spiritual energy and wisdom. Perhaps recognition of this tremendous potential, and directing these forces into some constructive expression will be the greatest challenge of all. This is not likely to be helped by the fact that this power, spectacular as it can be, is apt to be of such a subtle, spiritual nature, that you may not even recognize it, or feel sufficiently motivated to develop it.
Be it in some profound, noble role, or in some far less conspicuous expression of service, your true place is to be found in an expression of leadership. Quandaries as to what you want to do may leave you in a mire of mediocrity, drowning your frustrations in anything that will dull your awareness of your failures. Rise to the challenge, and you may bring inspired leadership as a teacher, counselor, healer, statesman or parent. Accept the opportunity spelled out symbolically in your card, and apply the essence of mastery, or personal discipline which it encompasses, and there should be no limit to what you can accomplish."
– Arne Lein - "What's Your Card?"

---
KING OF SPADE BIRTHDAY:
January 1 (Capricorn)
---
FAMOUS KING OF SPADES:
J. Edgar Hoover, Betsy Ross, J.D. Salinger, Tim Dog, Verne Mini-Me Troyer, Barry Goldwater, E.M. Forster, Deepa Mehta, Valentina Cortesa, Pavel Grachev