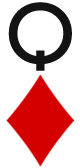 Diamonds - Values - Security - Dharma
Queen of Diamond Meaning: Domination in the Realm of Values
Karma ~ Financial Security At All Cost
---
Some of our greatest philanthropists are the Queen of Diamonds. In the world of art, some of our greatest poets, painters and musicians have contributed their wealth. It is these Queen of Diamond people that have learned the true meaning of value. They are people fitted for authority and should have it!
The path for the Queen of Diamond is a hard one - so beset with difficulties and obstacles - they are continually sapped of strength as they struggle to overcome one thing after the other.
Those born under this card are diligent and dependable. They are strong of character, and determined, but they must guard against hardness and domination. They have much to contend with, and much should be forgiven them.
The men strive to provide their partners with security, but can be overly sensitive and prone to temper tantrums (think Tom Cruise). The women enjoy sharing in their partner's business affairs.

---
QUEEN OF DIAMOND BIRTHDAYS:
January 15 (Capricorn), February 13 (Aquarius), March 11 (Pisces), April 9 (Aries), May 7 (Taurus), June 5 (Gemini), July 3 (Cancer), August 1 (Leo)
---
FAMOUS QUEEN OF DIAMONDS:
Charo, Martin Luther King, Aristotle Onassis, Chuck Yeager, Jerry Springer, Bobby McFerrin, Hugh Hefner, Dennis Quaid, Eva Peron, Mark Wahlberg, Brian McKnight, Tom Cruise, Montel Williams, Coolio, Yves Saint Laurent.