Six of Heart is the SOUL CARD
for the Three of Diamond
---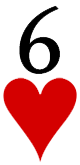 Family Values
Resolute
Protective
---
When the 3 of Diamond use the lionhearted strength of their soul card, their influence inspires greatness and optimism in others.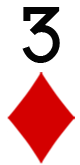 Personable
Illuminating
Worrisome
---
All 3's harbour a mistrust related to the meaning of their suit. The DIAMOND suit symbolizes financial and material values. Thus the 3 of Diamond are often mistrustful of financial institutions.

WHAT IS YOUR SOUL CARD?
Be it in politics or on the podium, the Three of Diamond are bright and personable, optimistic and steadfast in their personal and worldly pursuits. Unfortunately, the overwhelming urge for self-protection in material interests can throw them back on stark uncertainty, and the insecurity of the number "3". Tripping over their own dark thoughts and a deep mistrust of others, the Three of Diamond often fall prey to trickery, and don't receive the appreciation they deserve.
During late teens and early twenties, 3 of Diamond people may become victims of unreliable friends or associates. If they have beauty, material security or some other advantage, they are often subject to jealousy and gossip.
Early marriage is usually filled with such serious obstacles and troubles, it's better for the 3 of Diamond to wait until late 20's before tying the knot.

---
THREE OF DIAMOND BIRTHDAYS:
January 24 (Aquarius), February 22 (Pisces), March 20 (Pisces), April 18 (Aries), May 16 (Taurus), June 14 (Gemini), July 12 (Cancer), August 10 (Leo), September 8 (Virgo), October 6 (Libra), November 4 (Scorpio), December 2 (Sagittarius)
---
FAMOUS THREE OF DIAMONDS:
John Belushi, Steve Irwin, George Washington, Drew Barrymore, Spike Lee, Mister Rogers, Melissa Joan Hart, Tori Spelling, Donald Trump, Richard Simmons, Antonio Banderas, Pink, Elisabeth Shue, Sean Diddy Combs, Britney Spears,
Bernie Sanders